There might be affiliate links on this page, which means we get a small commission of anything you buy. As an Amazon Associate we earn from qualifying purchases. Please do your own research before making any online purchase.
Spring is here—are you looking for more ways to enjoy it?
We recommend the therapeutic art of coloring!
Coloring can be fun for kids, adults, and seniors. You get to bond with your family and friends while relieving stress and anxiety, plus you can be creative and artistic while exercising your brain.
We have gathered 31 printable spring coloring pages that you can enjoy with the people you care about. Some of them are for sale, while others are free. Either way, we're confident you will enjoy turning them into works of art.
Let's check them out!
(Side note: Want to see MORE free coloring pages? Then check out these 55 fall coloring pages that all adults and kids can enjoy).
1. Spring Doodle for Teens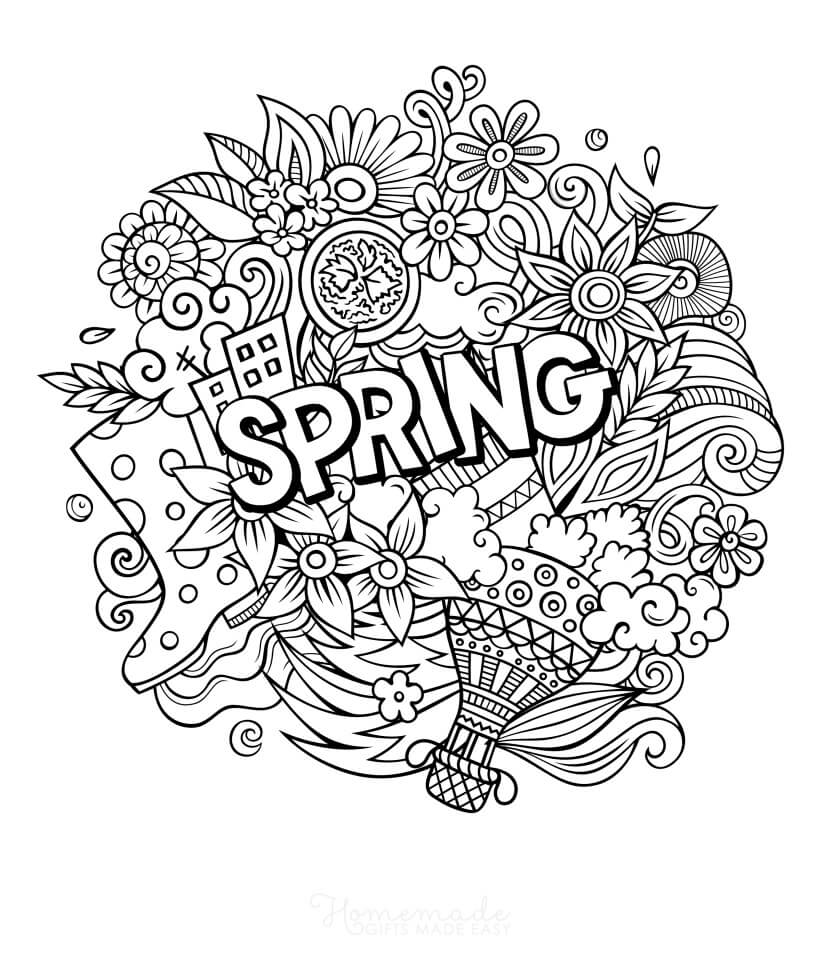 Our first page is a spring doodle for teens that is also fun for adults. You can download the file directly from the link above to get it in PDF format.
2. Spring Flower Doodle for Adults
Next, we have a spring coloring page that's a great fit for adults, although teens and older kids will probably enjoy it as well. Frame it once you are done coloring and post it on your wall during the spring season.
3. Hello Spring Doodle for Teens
Here's another doodle that is perfect for teens, but that is also elaborate enough for adults to try.
4. Detailed Spring Doodle for Adults
This doodle is super detailed and will provide you with an afternoon of stress relief. You can use it as decor for your walls or a cover for your spring art portfolio.
5. Spring Flowers
This coloring page is available to purchase from Etsy and is definitely worth the price. Look at how detailed those flowers are and imagine how they will look when you're done coloring!
6. Detailed Spring Flowers
Do you like coloring pages with realistic drawings? Try out this sheet and see where your creativity takes you!
7. Mandala Spring Flowers
This spring sheet is available as a Google Drive file. You will see a "download here" option once you visit Alisa Burke's website, and when you click, you will be redirected to Google Drive. You will need to ask for access first before getting a copy of it.
8. Spring Full of Flowers
You can print this page directly from the website; just click the "Print" option at the bottom. We suggest coloring it when you are stressed from work (or for any other reason). Mandala-style coloring sheets are a great way to destress.
9. Floral Bouquet
You can print this floral bouquet directly and color it whenever you feel burned out. Your mind, body, and soul need rejuvenation every now and then.
10. Complex Flower Coloring Page
Here is another coloring page from Alisa Burke that you are sure to enjoy.
11. Spring in a Jar
Here's a free, creative coloring page that looks like lots of fun. Primary Games is actually a great source for free coloring sheets. Enjoy coloring this spring jar with your kids and use that time to bond with them.
12. Happy Spring
This beautiful coloring sheet is available from Favoreads on Etsy. It features many spring elements, like boots, flowers, and a harvest. Color it in the morning, then head outside for a sunny spring afternoon!
13. Spring Flowers for Kids
This coloring sheet is perfect for kids. Take this opportunity to enjoy spending some time with your children. Coloring together is a great bonding experience.
14. Flower Mandala
Use this page to help you children learn to color mandalas. While this style of drawing can be detailed and a little complex to color, it is a great way to relax.
15. Garden Scene
Here's another coloring sheet that's excellent for children. Help them prepare for the spring season by enjoying a fun afternoon of coloring.
16. Cute Chick with Eggs
Isn't this chick cute? It melted our hearts when we colored it. We recommend it for kids and the elderly.
17. Spring Season
Spring is a great season to spend some time in nature. It is when the flowers bloom and temperatures are mild. Let's enjoy spring while it lasts!
18. Spring Vase
Here's another potential wall decoration. Wouldn't it be nice to see your own handiwork hanging in your home?
19. Country Spring
You can download this page for free if you create an account with the site. Otherwise, you can buy a high-quality copy of it. Either way, we just know you are going to enjoy this spring coloring sheet.
20. Spring Butterflies
Butterflies symbolize change and transformation, which is what spring is all about. You can start your metamorphosis into a new, fresh person this spring by coloring this lovely page.
21. Spring for Kids
Use this coloring sheet to teach your younger kids about the four seasons—and get them excited for the warmer days of spring!
22. Simple Set of Flowers
Here's another set of flowers to set your mind at ease. You can use this as a front page for your DIY cards or have it framed and use it as table decor.
23. Spring Boots
Do you have spring boots for tromping in the rain or working in the garden? If so, color these boots to match the pair you have at home!
24. Nature's Spring
Waterfalls are wonderful no matter the season, but they are exceptionally magical during spring. Check out this coloring page and fill it with the colors of spring!
25. Spring Bird
A bird singing with joy and celebrating spring—isn't that a sight to behold? Use your imagination to give life and meaning to this bird and the beautiful flowers surrounding it.
26. Cute Plants
What's the best way to discuss the seasons with kids? Art, of course! You can also use this coloring page as a tool to teach your kids the life cycle of plants.
27. Welcome to Paradise
This may look like a summer coloring page at first glance, but do you see those spring flowers there? Indeed, this page is actually celebrating spring, which ushers in the next best season—summer!
28. Stop and Smell the Flowers
Can we all just pause for a moment and appreciate nature's beauty? We'd love to have the finished version of this coloring page on our living room wall! What about you?
29. Cherry Blossoms
How about coloring some cherry blossoms? This design may look simple at first glance, but, depending on your level of creativity, you can make it exceptional!
30. Hello, April!
For all the kids and kids at heart out there, here's a very simple "Hello, April!" coloring page to start the month off right.
31. Cat and Butterfly
At this time of the year, it isn't uncommon to see butterflies flitting about. They are usually in full bloom during summer, but spring is their season, too!
Final Thoughts on Spring Coloring Pages for Adults & Kids
Spring is when flowers are in bloom and gardens start to flourish. It is a great time to enjoy the bounty and blessings of nature.
We hope that we were able to satisfy your thirst for spring coloring pages in this post. Choose the ones you like the best and enjoy coloring them with your family and friends during this lovely season!
And if you're looking for more resources on coloring pages, be sure to check out these blog posts:
Finally, if you want to want to see MORE free coloring pages?, then check out these 55 fall coloring pages that all adults and kids can enjoy<.